FL3100H-H2 UV/IR Flame Detector for Hydrogen Applications
The FL3100H-Hydrogen is an Ultraviolet / Infrared flame detector designed specifically to detect hydrogen (H2) fires and provide alarm outputs directly from the detector while maintaining false alarm immunity. It detects H2 fires by monitoring in both the ultraviolet (UV) and infrared (IR) spectral ranges, making it highly immune to false alarms. Configurations with dual Modbus and HART are available. Modbus and HART data can be used for predictive maintenance. The flame detector's electronics are integral within its explosion-proof housing, allowing detector information to be processed at the point of detection.
FL3100H-H2 UV/IR Flame Detector for Hydrogen Applications
FL3100H-1-5-1-3-3-1-1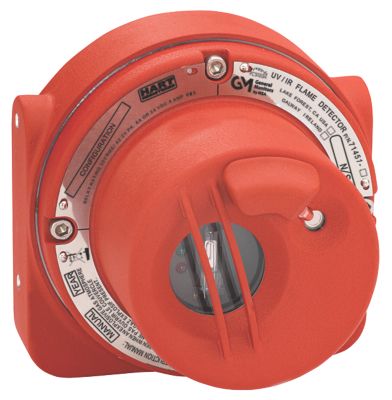 FL3100H-H2 UV/IR flame detector, 0-20 mA, Modbus, relays, 100% sensitivity, 4 second delay, hydrogen specific, aluminum housing, 3/4" NPT
Wide field of view for greater fire detection coverage for hydrogen fires
4-20 mA stepped output is the industry standard for remote alarm and fault indication
HART and dual Modbus communication provides complete status and control capability in the control room
Wide operating temperature range permits operation at higher ambient temperature
Continuous Optical Path Monitoring (COPM) checks optical path integrity and detector's electronic circuitry once every minute
Three SPDT high current programmable relay outputs provide immediate and time delayed relay outputs for alarm, programmable relay outputs
Markets:
General Industry, Oil & Gas, Utilities
Approvals subject to change without notice and may differ based on configuration, part number and/or country.
Contact Customer Service or check approval label on product for specific approval information.
Certificates
General
Manuals
Ordering Info
Downloads