Featured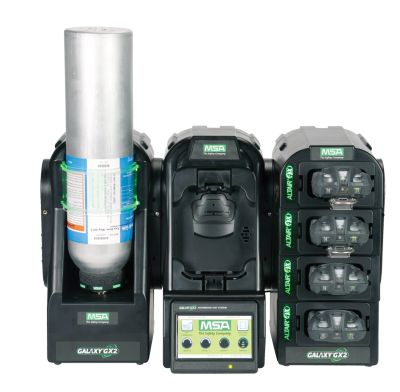 GALAXY® GX2 Automated Test System
Simplicity counts with the MSA GALAXY® GX2 Automated Test System for advanced safety management and effortless operation. The GALAXY GX2 Automated Test System provides simple, intelligent testing and calibration of MSA ALTAIR® and ALTAIR PRO Single-Gas Detectors and ALTAIR 4X and ALTAIR 5X Multigas Detectors. Easy-to-use automated test stand offers high performance as either stand-alone unit or integrated portable detector management system, enabling total data access and control of the MSA ALTAIR family Gas Detector fleet. New MSA Link™ Pro Software for proactive safety management; gas exposure email alerts, direct data input, live filtering, test and exposure queries, collecting and printing reports.
Featured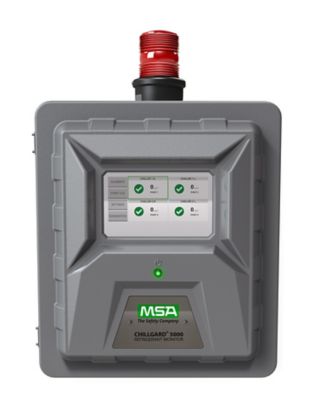 Chillgard® 5000 Refrigerant Leak Monitor
The Chillgard 5000 Refrigerant Leak Monitor provides the earliest level of detection of costly refrigerant gas leaks in mechanical equipment rooms. Sampling system with patented photoacoustic infrared (PAIR) technology detects leaks as low as 1 part per million (ppm). Intuitive, touchscreen user interface makes it easy to operate. Predictive maintenance and diagnostics keep you operational.
Featured

SUPREMATouch Controller
The SUPREMATouch features a large colour touchscreen display with a title-based menu structure to optimize intuitive operation. It can be used with a wide range of detectors for combustible gas, toxic gas and oxygen deficiency. Output options include relays and 4-20 mA outputs. Remote racks can be connected (satellite structure), which expands control systems and reduces cabling costs. Interfacing to external systems is provided by using Modbus or Profibus. The SUPREMATouch has been certified according to ATEX and is suitable for virtually any safety related application including redundant systems with up to a Safety Integrity Level (SIL) 3 rating (EN 61508). The intuitive SUPREMA Manager Software is intended for configuration, parameterization and calibration of the SUPREMATouch Fire and Gas Controller. It offers the option to create detailed and clearly laid out reports to support documentation and supports all the features of the SUPREMATouch. Note: This is a custom product. Please consult your local MSA distributor or contact MSA Customer Service for configuration details.
Ultima® X Series Gas Monitors
Designed to provide thorough, continuous monitoring of many hazardous gases, the indoor/outdoor Ultima X Series Gas Monitors offer excellent performance and MSA quality craftsmanship. DuraSource™ Technology offers extended sensor life, while HART provides convenient setup, calibration and diagnostics. HART also allows for existing component install and wiring to be used. A single circuit board increases reliability, while our patented sensor disconnect-underpower feature allows all sensors to be replaced in hazardous areas without area declassification. The units are crafted from either stainless steel or polycarbonate, and the interchangeable smart sensors eliminate the need for reconfiguration. Our scrolling LCD screen display sensor reading and gas type, while the calibration process includes date stamping and the ability to calibrate locally or remotely.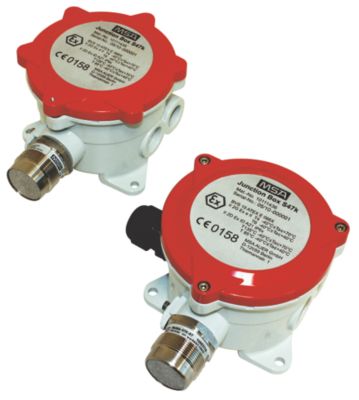 Series 47K
Designed to detect flammable gas or vapor, the stainless steel Series 47K gas sensors offer a cost-effective way to detect hazards in the air. The sensors come in poison resistant and high-temperature versions, and have three- or five-wire connection.
Observer-i Ultrasonic Gas Leak Detector
Instantly detect pressurized gas leaks with this high-precision,  omni-direction acoustic detector utilizing Gassonic ultrasonic technology. Works even when traditional methods of gas detection are unsuitable or dependent on ventilation. Features Artificial Neural  Network (ANN) technology that distinguishes between real gas leaks and false  alarm sources without requiring any in-field training. The Observer-i UGLD provides an industry-leading detection range (up to 28 m) reducing the  number of detectors required. Ideal for use in complex, outdoor pipeline systems.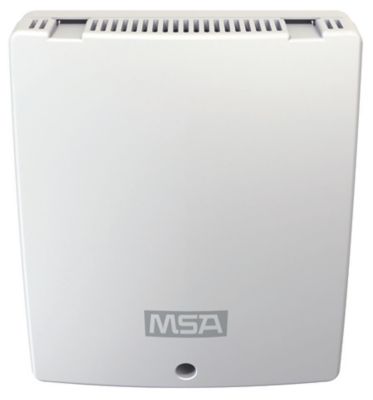 Chillgard® VRF Refrigerant Leak Detector
The Chillgard VRF Refrigerant Leak Detector is the first industry detector for Variable Refrigerant Flow Systems (VRF) with integrated BACnet capability. Therefore, it can be directly connected with any Building Management Systems (BMS). MSA applies its proven Photoacoustic infrared sensing technology that provides a stable zero baseline, minimizes cross-sensitivities and offers low cost of ownership through minimum maintenance required.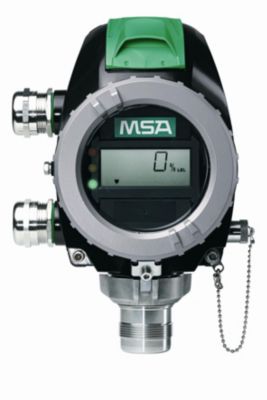 PrimaX® P Gas Transmitter
Designed to detect gases indoors or outdoors, our PrimaX P Gas Transmitter measures oxygen and toxic and combustible gases. The flameproof transmitter is housed in a powder-coated aluminum enclosure that will protect it in extremely dangerous conditions. The unit also features a large, easy-to-read LCD screen and three LED status indicators for up-to-the-second reporting. The transmitter attaches to an integral mounting plate for easy installation, and it can be easily calibrated using the built-in keypad. It uses a 4-20 mA output signal to transmit its data, and it can also be configured to use HART digital communication. With easily replaced plug-in sensors, the PrimaX P transmitter is suitable for laboratories, chemical plants, power plants and several other industry settings.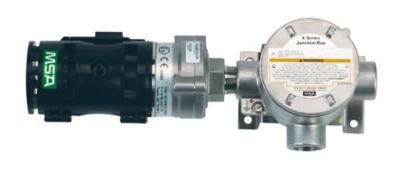 PrimaX® IR Gas Transmitter
Every feature of the PrimaX IR Gas Transmitter is designed with reliability in mind to withstand the most challenging environmental conditions through out the product's life. MSA's PrimaX IR Gas Transmitter offers LEL (Lower Explosive Limit) combustible gas detection through a patented PrimaX Gas Transmitter IR dual source design. A redundant IR source provides reliability and uninterrupted monitoring should a source failure occur. Furthermore, the possibility of obscurations due to rain, fog, dirt, dust, and other environmental conditions is minimized due to dual source design.