Featured

Gravity™ Sure-Line™ Horizontal Lifeline
MSA's newly enhanced Gravity Temporary Horizontal Lifelines offer unique, exclusive bypass shuttles enabling two workers to share a line and pass each other while maintaining 100% tie-off. The Gravity Sure-Line™ Temporary Cable Horizontal Lifeline for quick, easy installation at temporary work sites is suspended between two approved anchor points to provide worker fall protection during horizontal movement. Lightweight system is rated for two people.
Featured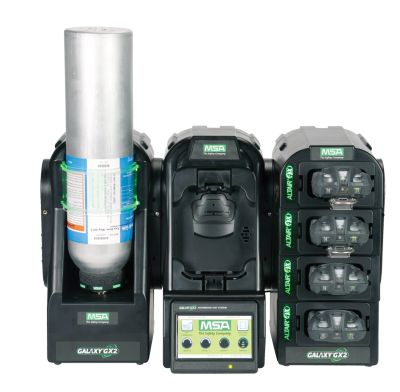 GALAXY® GX2 Automated Test System
Simplicity counts with the MSA GALAXY® GX2 Automated Test System for advanced safety management and effortless operation. The GALAXY GX2 Automated Test System provides simple, intelligent testing and calibration of MSA ALTAIR® and ALTAIR PRO Single-Gas Detectors and ALTAIR 4X and ALTAIR 5X Multigas Detectors. Easy-to-use automated test stand offers high performance as either stand-alone unit or integrated portable detector management system, enabling total data access and control of the MSA ALTAIR family Gas Detector fleet. New MSA Link™ Pro Software for proactive safety management; gas exposure email alerts, direct data input, live filtering, test and exposure queries, collecting and printing reports.
Supreme® Pro Earmuff
The Supreme level dependent ear muffs protect from hazardous noise while allowing users to hear surrounding sounds. By wearing Supreme ear muffs you can communicate face-to-face as well as hearing commands and instructions without removing the hearing protector, even when others are shooting.