Featured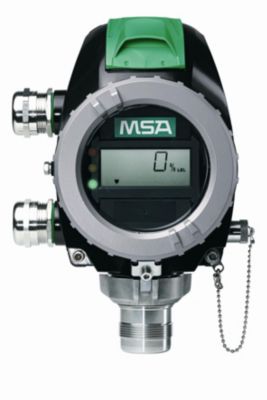 PrimaX® P Gas Transmitter
Designed to detect gases indoors or outdoors, our PrimaX P Gas Transmitter measures oxygen and toxic and combustible gases. The flameproof transmitter is housed in a powder-coated aluminum enclosure that will protect it in extremely dangerous conditions. The unit also features a large, easy-to-read LCD screen and three LED status indicators for up-to-the-second reporting. The transmitter attaches to an integral mounting plate for easy installation, and it can be easily calibrated using the built-in keypad. It uses a 4-20 mA output signal to transmit its data, and it can also be configured to use HART digital communication. With easily replaced plug-in sensors, the PrimaX P transmitter is suitable for laboratories, chemical plants, power plants and several other industry settings.
2602A Zero Two Series Control Module for H2S Applications
The 2602A is a single-channel H2S Control Module that has been designed to monitor H2S in parts per million (ppm) levels and provide status indication and alarm outputs. Microprocessor-based electronics allow all options to be user selectable through front panel interface (mode / select switch and digital display). The digital display on the 2602A indicates hydrogen sulfide gas concentration, fault codes, calibration cues and setup options. Other features include LED indications of status, relay outputs for fault, low alarm and high alarm, and serial communications ports.
Ultima® X Series Gas Monitors
Designed to provide thorough, continuous monitoring of many hazardous gases, the indoor/outdoor Ultima X Series Gas Monitors offer excellent performance and MSA quality craftsmanship. DuraSource™ Technology offers extended sensor life, while HART provides convenient setup, calibration and diagnostics. HART also allows for existing component install and wiring to be used. A single circuit board increases reliability, while our patented sensor disconnect-underpower feature allows all sensors to be replaced in hazardous areas without area declassification. The units are crafted from either stainless steel or polycarbonate, and the interchangeable smart sensors eliminate the need for reconfiguration. Our scrolling LCD screen display sensor reading and gas type, while the calibration process includes date stamping and the ability to calibrate locally or remotely.
H2S Gas Sensors and Accessories
General Monitors' hydrogen sulfide (H2S) sensors are solid state devices, designed and manufactured for long life and fast response. They are selective to H2S and remain unaffected by high concentrations of other substances like hydrogen, sulfur dioxide, and gasoline vapors, which are often present in facilities that process sour gas and crude oil. A high tolerance to a broad range of temperatures and humidity enable these sensors to operate in rugged environments, as does their capacity to withstand exposure to high H2S concentrations over short periods.
Observer-i Ultrasonic Gas Leak Detector
Instantly detect pressurized gas leaks with this high-precision,  omni-direction acoustic detector utilizing Gassonic ultrasonic technology. Works even when traditional methods of gas detection are unsuitable or dependent on ventilation. Features Artificial Neural  Network (ANN) technology that distinguishes between real gas leaks and false  alarm sources without requiring any in-field training. The Observer-i UGLD provides an industry-leading detection range (up to 28 m) reducing the  number of detectors required. Ideal for use in complex, outdoor pipeline systems.