SSR 30/100
This small, robust KO2 respiratory device delivers safe and immediate oxygen on demand for escape or rescue. Packed airtight in a stainless steel container, this lightweight device is designed to be worn on a belt for easy opening and use. Dons in seconds. The TR device allows quick and economic training of donning and use by simulating the weight and properties of real units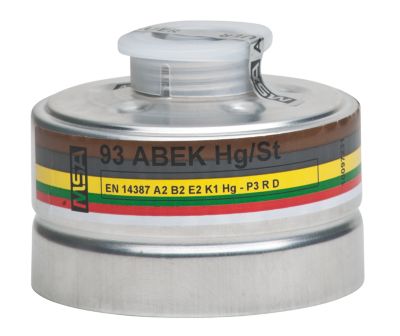 92/93 Combination Filters
The high-performance MSA filters provide strong protection against a wide range of toxic gases and particles  in full accordance with the latest standards. MSA's PlexTec particle filter technology increases filtering surface for easier breathing. Benefits for the user include: safe selection, no mix-ups, economical procurement, simpler stock keeping. Available in gas filter classes 1 or 2, and particles classes 2 and 3, in single or multiple gas range They are using the standard threaded connection EN148-1 and are compatible with all available facepieces equiped with the same thread. The 92 and 93 series of MSA gas filters are in full compliance with the REACH regulation and do not include any toxic materials listed in the European Regulation.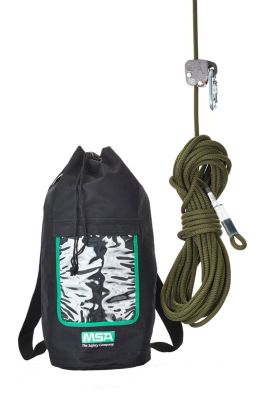 Rope Grab Easy Move With Lifeline
The Easy Move device with lifeline is used to provide temporary fall protection on ladders or when climbing. This system can also be used to provide a secondary lifeline for suspended positioning systems used by building/structure inspectors, window cleaners, andmaintenance personnel. The vertical lifeline kit consists of 15, 20, 25 or 30m of 11mm polyamide rope with sewn eyelets, Easy Move device and carrying bag.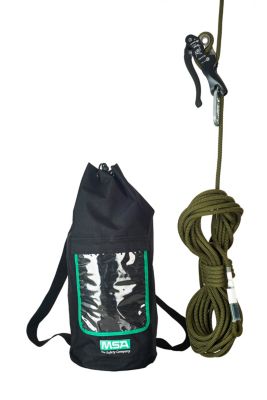 Anthron Descender
The Anthron Descender is a manually operated, controlled descent device most commonly used for suspended work positioning, self-evacuation, or rescue operations. A cam assembly provides friction on the rope to hold a load or allow the load to descend at a controlled rate. The system consists of a 7/16" (11mm) rope, the Anthron Descender, and two carabiners. Proper roping and rigging diagrams are on the side of the device, which can be installed or removed at any point on the rope and has a working load of 300 pounds (136 kg).
motionSCOUT
This stand-alone personal alert safety systems detects the cessation of bodily movement and activates an automatic alarm. For enhanced safety the alarm can be activated manually also. It is extremely simple to use. The sensitive, electronic motion sensor recognises all normal body Movements. Maintenance-free and durable - the motionSCOUT guarantees a great cost-performance-ratio. The operating time is extremely high being >200 hours, same as the alarm time of 10 hours continuous sound.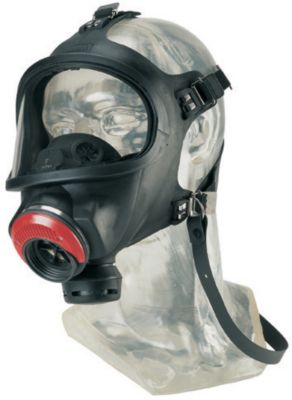 3S Positive Pressure Full-Face Masks
With more than five million units sold, the upgraded 3S Full-Facepiece Respirator offers safety, comfort and durability. The face blank is made of a softer rubber compound (and also yellow silicone in another option) and has a wide sealing frame and deeper chin stop for a snug, comfortable fit. The lens is made of impact-resistant polycarbonate (and silicate-coated glass and Triplex glass in other options) and offers a wide field of vision for excellent viewing. The harness allows for quick donning and removal and achieves a pressure-free fit in combination with a protective helmet. The inner mask allows for optimal air flow and eliminates lens fogging. The mask comes in more than 50 different versions, allowing users to find the perfect mask.
SavOxCap 60
This self-rescuer with hood provides more than 60 minutes of breathing air during escape conditions while also protecting eyes and head. Featuring proven KO2 technology, it provides a reserve of oxygen according to demand. Dons fast and easy. Features a highly visible orange hood, flexible visor and integrated half mask with speech diaphragm. The TR device allows quick and economic training of donning and use by simulating the weight and properties of real units